British Columbia PNP Immigration Consultant Service in Dubai,UAE - XIPHIAS Immigration
Skills Immigration Application Intake
The Provincial Nominee Program (BC PNP) is accepting a limited number of applications for in-demand jobs under the Skills Immigration stream effective November 10, 2015.
The BC PNP was redesigned in July this year to make a targeted shift towards attracting high-impact workers and entrepreneurs that align with B.C.'s labour market and economic development priorities. This intake is focussed specifically on attracting applicants who are in high-wage occupations and meet those priorities.
Application intake will be limited to 50 applications in the Skills Immigration stream.
Applications are invited for occupations that offer wages over $100,000 a year. Examples could include senior construction, transportation, manufacturing and engineering managers, industrial and electrical engineers, as well as specialized software developers or technology professionals.
The BC PNP continues to process applications already in the inventory. The addition of 50 applications will not impact the processing times of existing applications.

The Entrepreneur Immigration stream will continue to accept registrations for prospective applicants, up to a maximum of 200 per month
As well, no changes have been made to the following categories and applications will continue to be accepted in:
B.C. continues to work with the federal government to increase the allocation of provincial nominations for B.C. in 2016.
Economic growth in B.C. depends on people – on having the qualified workers and entrepreneurs we need to meet labour market and economic development demands and ensure the continued prosperity of our province. Immigration plays an important role in helping B.C. meet current and future labour market shortages.
The BC Provincial Nominee Program (BC PNP) is an economic immigration program based on provincial priorities and selection criteria. It offers accelerated immigration for high-impact foreign workers and entrepreneurs who intend to live permanently in B.C., demonstrate the ability to become economically established and contribute significantly to the provincial economy.
The BC PNP offers options for immigrating to B.C.
The Process
The BC PNP is an accelerated immigration pathway for individuals to obtain permanent resident status in Canada. The first step in the process is to register and/or apply to the BC PNP. If your application is approved by the BC PNP, you are a Provincial Nominee, and you and your dependent family members can apply to Citizenship and Immigration Canada (CIC) for permanent resident visas in the Provincial Nominee Class.
Express Entry British Columbia And Skills Immigration
For individuals with a job offer in a high-demand occupation (or students with a post-graduate degree from a B.C. post-secondary institution in the natural, applied or health sciences)
Applicants must meet specific eligibility criteria. With the exception of individuals applying with a post-graduate degree from a B.C. university in the natural, applied or health sciences, all applicants must have a full-time, indeterminate job offer from an eligible B.C. employer.
Entrepreneur Immigration
For experienced entrepreneurs who intend to invest in and actively manage an eligible business in the province.
Individuals must be investment-ready, with business ownership and/or management experience. They must demonstrate that they are able to establish themselves in B.C. and invest in a new or existing business that will employ Canadian citizens or permanent residents, providing significant economic benefits to the province.
The BC PNP has introduced a mandatory registration system for all prospective applicants to the Entrepreneur Immigration stream.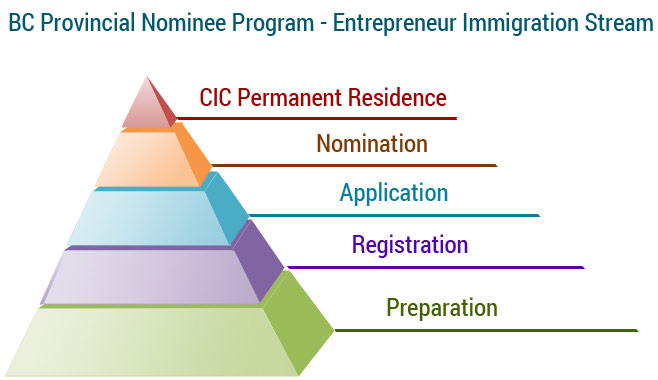 XIPHIAS Immigration helps you and guide you in every way to fulfill your dreams to settle in Canada. We have all the expertise to prepare your application and advice you before and after you come to Canada on how to accomplish the conditions put forth by the Canadian Authorities. Now is the time to take advantage of great life style in Canada. The opportunities are unlimited.

Our Immigration Coordinators will reply your inquiry within 48 hours and provide you with FREE phone Consultation Service.

Email: dubai@xiphiasimmigration.com

Phone: +971-43626565